From the Blog
Dec 01, 2023
Nov 13, 2023
Nov 03, 2023
Oct 18, 2023
Oct 02, 2023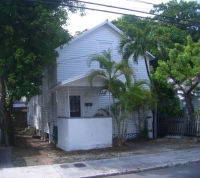 Old Town Key West Original Conch House
Price: $480,000.00 (SOLD $417,500 on September 16, 2013)
Two story, wood frame, three bedroom/one full bathroom single family home in Old Town Key West. Clean and sturdy. Excellent neighborhood within easy walk or cycle to Bayview Park, elementary and middle schools, neighborhood shops and eateries and downtown.
Details:
Two story in front. One level in rear.
One bedroom downstairs, two bedrooms and the bathroom upstairs.
All electric kitchen.
X-Flood zone (Flood insurance not needed if using a mortgage).