From the Blog
Jul 31, 2022
Jul 20, 2022
Jul 04, 2022
Jul 03, 2022
Jun 14, 2022
Posted: Sep 26, 2013
Would you like to buy an island in the Florida Keys?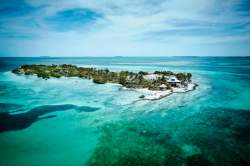 Your own private island. A dream. Blue and white and sea and sand. Minutes from Key West. Just you, some sunscreen and a hat. There are several islands for sale in the Florida Keys. Here are the four best; an island from a Bond movie, a lush and modern home, a lovely pearl and the last, 10 acres on which to create your own paradise. Drive a boat, a sea plane or a helicopter to your paradise island home. Pull your dinner from the sea. Count stars. No passport. No hustle. No lines.
The Florida Keys are unlike any place in the United States. Stretching some 130 miles west-southwest from the southern tip of Florida, the Keys have been attracting explorers, pirates, fortune hunters, missionaries, homesteaders, skaliwags, hipsters, rum runners (and drinkers) and just plain folk since the early 1600's.
The four islands below offer that certain someone a place of their own in the sun. To escape to on those rare occasions or to live on year 'round. Come to the Keys. Join us and Enjoy!
Ballast Key is the only inhabited island in the 9600 square kilometer Florida Keys National Marine Sanctuary and is the southern most home in the United States. Ballast Key is 15 kilometres to the west of Key West and can be reached from Key West in 25 minutes by boat or 10 minutes by helicopter.
The main house, shown here, has 5 bedrooms and the guest house has 3 bedrooms. The island produces its own electricity and has a desalinization plant.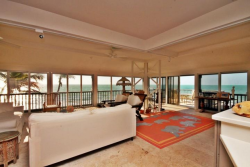 Engel & Voelkers released a Press Release in June 2013, with many accompanying photos and a virtual tour. Select here.
Ballast Key was also featured in the fabulous Engel & Voelkers GG Magazine, Summer 2013 edition, and can be read here. (Click on link and go to page 72).
Ballast Key is available for $15,800,000 USD. (€ 8,567,000 EUR)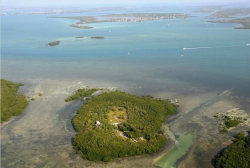 Hopkins Island is 25 minutes north of Key West and 25 minutes south of Marathon, lying less than 3 miles offshore from Little Torch Key. On the 12.5 acre island there is a single two story home (plus 3rd story observation tower). The 4 bedroom, 3 bathroom, 1920 square foot home is sheltered on the east side of the island.
Fronting the home is a protected basin with extensive dockage or you can fly a helicopter to the large and grassy interior of the island. Furnishings and island equipment is included.
The Looe Key National Marine Sanctuary, which offers the absolute best snorkeling in the middle and lower Keys, is only moments away.
If the ultimate in pampering, accomodations and dining is your preference, world renowned Little Palm Island luxury resort and spa is likewise just a few moments away.
Hopkins Island is available for $17,000,000 USD. (€12,580,000).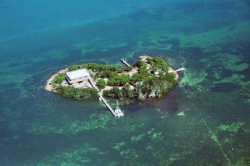 Fanny Key lays just 4 minutes offshore in Marathon, FL and is easily reached via the 25' pontoon boat included in the sale. The main house has 3 bedrooms and 2 bathrooms. The guest house has 2 bedrooms and 1 bathroom. As you can see in the photo, there are three docks, offering not only access for your guests but also the flexibility of dockage based on prevailing winds. The main dock has city water and 50amp electricity.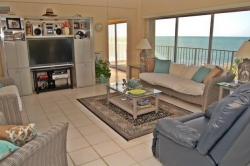 This is a coral island. The main house is built of concrete block, has two stories, a 8' x 20' pool and has a top floor observation deck with railing that provides 360 degree views. There is a fenced balcony that surrounds the 2nd floor. The beauty of the sea and light stream in through large windows and sliding glass doors on the 2nd floor.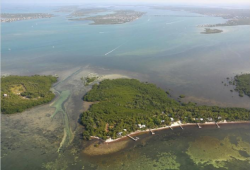 At almost 10 acres, this is the largest single property on Cooks Island. In 2012 the existing single family home was removed in preparation for coded construction. Environmental and Rate of Growth Ordinance (ROGO) approvals are in-place. Construction codes, permits and standards are the same here as for any other construction in Monroe County.
The sale price/cost per acre of this property is the outstanding.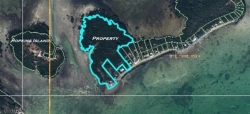 As shown in the photo here, the land is on the eastern portion of the island and lays across the channel from Hopkins Island. As with Hopkins Island, Cooks Island lays half way between Key West and Marathon and is just moments away from Little Torch Key, Little Palm Island and the Looe Key National Marine Sanctuary.
Cooks Island is available at $575,000. (€425,500 EUR).
Each of these islands provides a piece of paradise unlike anything else in the Florida Keys. Imagine! Living on an island!
Or, if you have any questions or comments you can contact me here.
Good luck!