From the Blog
Dec 01, 2023
Nov 13, 2023
Nov 03, 2023
Oct 18, 2023
Oct 02, 2023
Posted: Sep 11, 2023
Where's the best cup of coffee in Key West?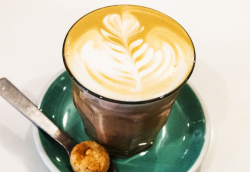 In keeping with the unabashed individuality of everything else in Key West, coffee is ground, brewed and delivered with the greatest of care at multiple locations in the Southernmost City. Sure, there are some big box coffee outlets in town but really, is that why you came to Key West? To drink the same old industrial swill? How 'bout a local brew? Select beans, groundeded and prepared with entrepreneurial care. Fresh made pastries (that means on site, not frozen express delivery). Real cups and saucers. Sit, sip, talk, listen and enjoy the fruits of small business at the headwaters of A1A.
When is the best time to drink coffee?
Do you slam back that first mug right after brushing your teeth in the morning? Eck! Science (Hail Science) points to a better time. Chronopharmacology can be defined as the study of the interaction of biological rhythms and drug action. One of the most important rhythms is the circadian. The natural ebb and flow of human get up and go points away from jump starting your day with 16oz. of morning joe, mostly because the body doesn't need a jump start after a night's sleep. Cortisol levels indicate mid morning and early afternoon might be better for that coffee fix.
Or, you can just say, the heck with science, I'm getting that capuccino and chocolate almond croissant right now! In which case - read on with dilated gusto about these winning coffee shops in Old Town Key West.
Glazed Donuts - 420 Eaton St.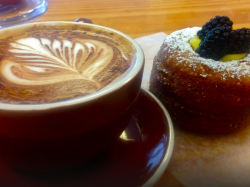 If those two words - Glazed and Donuts - don't compel you to beat a path to this locally owned and operated shop then there's something wrong with you. Glazed Donuts is open 6 days a week from 7ish till noon. Super clean. Roomy. Red Buoy Coffee is roasted daily onsite and you can buy a 1lb. bag if you want. But, it's the donuts, made from scratch right in front of your eyes fresh throughout the morning, that speak to me and my sweet teeths. Chocolate glazed! Mango hibiscus. Blood orange bullseye. Maple bourbon bacon. And the apple almond fritter ... Oh man ...
La Grinote - 1211 Duval St.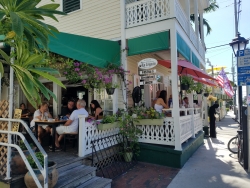 La Grinote is authentic French all the way thanks to delightful husband and wife Denis and Kate. Their pastries and breads are baked fresh daily, the best in Key West. La Grinote uses Caffe Motta coffee. Fresh ground and brewed. Match with a chocolate almond croissant and multiple sweet cakes. La Grinote has indoor and patio seating and a full delicious menu for breakfast or lunch. Did someone say Benedict?! You will hear the satisfied voices of locals and foreign travelers on holiday from around the world. I take my coffee, a slice of lemon pistacchio cake and a paper on early mornings or Friday late after lunch. Allows me to chat up the wonderful crew who never ever lose their smile! Join me.
5 Brothers - 930 Grinnell St.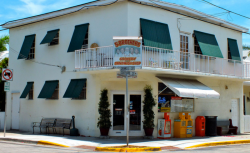 When you talk Cuban coffee, sandwiches and an old style, family run Cuban grocery store, 5 Brothers is the only place in town. Old Town locals, conchs, cops, city workers and in-the-know snow birds pop in for Cuban coffee whether con leche, espresso or bucci (liquid dynamite). Sandwiches too, made to solve your hunger pains till tomorrow. You can sit outside and solve the problems of the world or carry out and thank the world you don't have any (problems).
Key West Cakes - 1014 White St.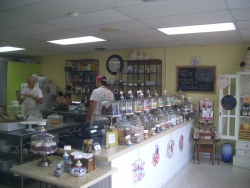 You won't find a more unassuming storefront in Key West but, behind the glass at Key West Cakes is a heaven of custom made and decorated cakes, cookies, cupcakes, take home pasta meals and a ready pot of fresh brewed coffee. Every award winning delight is made on site with the finest ingredients. Have your coffee in a real mug steaming hot or over ice, as I do in the summer. Cupcakes are served on old-timey decorated plates from Grandma's pantry. I like the Old Fashioned or Oreo cupcake (Anything with chocolate). The cake preparation area is in full view and the thankful chatter of satisfied customers mixes with shop talk and mellow Pandora. It's as local as local can be. Best of all - its Quiet.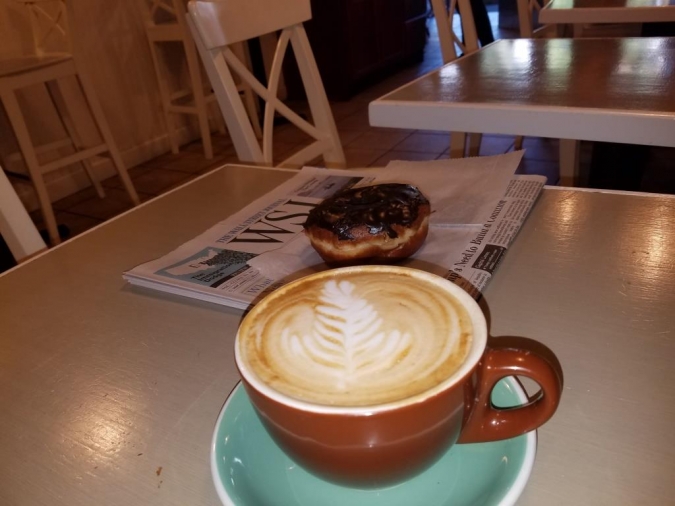 Those are my favorites but there are plenty more around town. Cuban Coffee Queen provides a satisfying jolt and belly pleasing sandwiches in two locations; the waterfront and just off Duval St. Harpoon Harry's, on Caroline St., serves the best diner coffee ever, Chock Full of Nuts, in a neighborly 50's style with the totally best eggs and grits in town.
So join us for a satisfying jolt and GET AWAY from overpriced industrial sameness.
Enjoy the aroma.
If you have any comments or questions, please contact me here.
Good luck!
Additional Sources: