From the Blog
Jan 20, 2023
Jan 15, 2023
Jan 06, 2023
Jan 02, 2023
Jan 02, 2023
Posted: May 13, 2022
Welcome to the Key West Lighthouse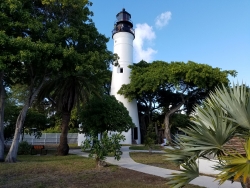 The Key West lighthouse dates to 1825 and was one of four lighthouses constructed along the treacherous Florida Keys. The Great Havana Hurricane of 1846 totally destroyed the original lighthouse and 98% of everything else in Key West. The present day lighthouse was constructed in 1848 and served Key West mariners until it was decommissioned by the Coast Guard in 1969. Presently the Key West Arts and Historical Society leases the lighthouse from Monroe County. As a museum, the lighthouse and the Keeper's Cottage provide a glimpse into early mariner days when an error in navigation could mean destruction and death.
The original lighthouse burned whale oil
The first Key West lighthouse was a 65-foot (20 m) brick tower completed in 1825. It had 15 whale oil lamps in 15-inch (380 mm) reflectors. The lighthouse was located at Whitehead's Point, the last tip of land in Key West and served as a second guide to harbor after ships had passed the Sand Key lighthouse.
The 1846 Great Havana Hurricane destroyed both the Sand Key and Key West lighthouses. As a temporary fix, a ship with a beacon was parked near Sand Key and a temporary beacon in Key West was placed a top a 30' tall tripod.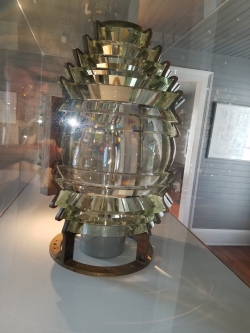 Immediately, Congress was lobbied for funds to replace the lighthouse and in 1847, an allocation of $12000 was made. The new lighthouse was constructed on a 1-acre plot, one-half mile inland and 14' above sea level. The new tower was completed in 1848. It was 50 feet (15 m) tall with 13 whale oil lamps in 21-inch (530 mm) reflectors.
In 1858 the light received a Third Order Fresnel Lens. A 3rd order lens was approximately 39 inches in diameter, 62 inches tall and weighed 1984 lbs. It burned 7 oz. of oil per hour and had a useful range of 18 nautical miles. In 1873 the lantern was replaced, adding 3 feet (1M) to the height of the tower. The growth of trees and taller buildings in Key West began to obscure the light, and in 1894 the tower was raised twenty feet, placing the light to its present height of 100 feet (30 m) above sea level.
The lantern was converted to electricity in the early 1900's.
What about the Lighthouse keepers?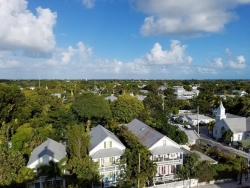 The first keepers of the lighthouse were Michael and Barbara Mabrity. After six years as Keeper, Michael died in 1832 of yellow fever. From 1832 to 1864, a fiesty and devoted Barbara kept the wicks clean, the whale oil filtered and the brass shined. Despite hurricanes of 1835, 1841, 1842 and 1846 (and the drowning of 3 of her 6 children), Barbara Mabrity never waivered.
When the Civil War broke out, though Florida sided with the Confederacy, Key West remained with the Union. Key Westers were naturally divided over this decision, to the extent that modern day Truman Avenue which bisects Key West into North and South, was then called Division Street. It appears that Ms. Mabrity's sentiment and tongue ran more Confederate than Union, so that in 1864, at age 82, she was dismissed as Keeper for disloyalty to the Union.
But the Mabrity legacy was far from over.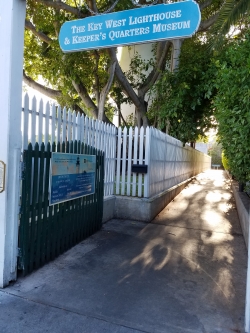 The Mabritys' granddaughter, Mary Armanda Fletcher, married John J. Carroll. In 1868 Carroll was appointed assistant keeper and then promoted to head keeper of Key West Lighthouse in 1870. He died of typhoid in March 1889. Mary was promoted to keeper, a position she held for just a few weeks before she too succumbed to typhoid the following May.
The Mabritys' daughter, Nicolosa, married Captain Joseph Bethel in 1831, and together they served at lighthouses throughout Florida. Their son, William A. Bethel, replaced his cousin, Mary Carroll, as keeper of Key West Lighthouse and served in this capacity from 1889 to 1908. Upon William's death, his wife, Mary Elizabeth was promoted from assistant to head keeper and served in this role until 1915, with her son Merrill as assistant. The Mabrity dynasty thus spanned over eighty-five years at Key West Lighthouse. But there is more ...
In 1966, the Key West Art & Historical Society took over operation of the Keeper's Quarters. The Coast Guard decommissioned the Key West Lighthouse in 1969. In December 1969, the 83-year-old Jennie Bethel deBoer, daughter of former keepers William and Mary Bethel, officially turned off Key West's light.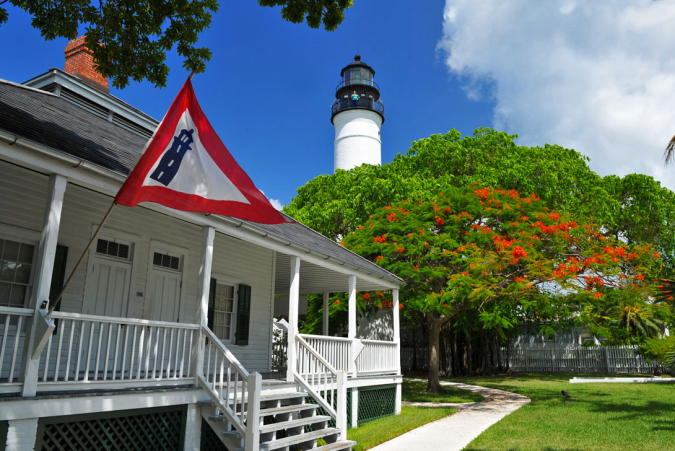 In 1887, the present keepers' dwelling was completed as a house for two keepers and their families. The building provided a separate room and entrance for each family, though they did share a common parlor, dining room, and kitchen.
In the late 1980s, the Lighthouse & Keeper's Quarters underwent a three-year restoration. Key West Art & Historical Society included exhibitions that told the story of the Keepers who kept the light burning. In 1990, the lighthouse and clapboard bungalow that housed the Keepers and their families were opened as a museum that mirrors the turn-of-the-century lifestyle complete with historic furniture, artifacts, and photographs of the culture and history of early Key West.
If you have any comments or questions, please contact me here.
Good luck!
Additional items: