From the Blog
Sep 03, 2022
Aug 24, 2022
Aug 03, 2022
Jul 20, 2022
Jul 04, 2022
Posted: Jan 11, 2022
Security Cameras for Your Home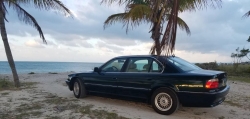 I hate street parking. Four times in the past several years my parked car has been damaged or vandalized; by an elderly driver driving against his insurance company's directive, a drunk bicyclist and twice by shameless vandals. Each time my security cameras filmed the event and three times caught the SOBs. Thousands of dollars saved in repairs; grooves of scratched paint, broken mirrors, stolen emblems, etc., as each loser fessed up to the deed and paid damages. Excellent investment. Let's look at some camera options.

Each of the cameras at my home were installed and are serviced by Barnes Alarm Systems of Key West. Barnes is the oldest home and business security and protection specialist in Key West with offices at 3201 Flagler Ave in Key West and a second office at 5800 Overseas Hwy in Marathon. Barnes provides a wide variety of security services; Fire Alarm and Protection Systems, Burglary Systems, Carbon Monoxide Sensing Devices, Card Access Control, Uplink GPS, Integrated Security Systems, etc., but what we will talk about today is their Surveillance Cameras systems.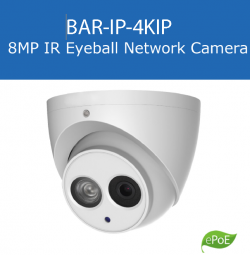 Camera systems are either wireless or hard-wired. Wireless systems, favored by do-it-yourselfers, depend on the internet and cloud storage; i.e. no internet – no recording. Hard-wired systems operate in the cellular band, record directly to an on-site recorder and use battery packs during electrical interruption. Both wireless and hard-wired systems can provide remote access and monitoring.
Night vision. Nearly all systems incorporate infrared (IR) imaging into their system. However, the recording quality of the wireless systems, due to having to broadcast the image over the internet, can be of lesser quality than a hard-wired system.
Barnes' 8MP Eyeball Network Camera features Starlight ultra-low light technology and Intelligent Video System (IVS) for facial recognition and detection of anyone trying to tamper with or vandalize the camera. The 8MP camera has a +/- 30% voltage tolerance to accommodate unstable electrical conditions, a viewing angle of 112 degrees horizontal and 69 degrees vertical and can provide DORI recognition out to 46', day or night.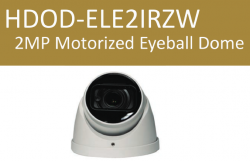 View angle and field of view. Most cameras have a fairly wide angle view, 110 degrees is the most common. Identification and recognition of the object/subject is based on pixel per meter (PPM). A narrower angle of view can extend this distance; however, the width of the area covered will be smaller.
The best way to cover a wide area, for instance the entire front or rear of your property, is to install cameras so that their view angles intersect. The camera on the left of your property is pointed to the right and the camera on the right side of your property is pointed to the left with the intersection in the middle of the viewing zone.
Barnes' 2MP Eyeball Camera features the same tamper-proof and vandal detection and +/- 30% voltage tolerance as the 8MP Camera. The motorized lens has a DORI recognition distance of 30' (wide angle) and 87' (telescopic), day or night, and an infrared (IR) detection distance out to 197' with the use of two infrared LEDs.

Weather and life expectancy. Virtually all cameras are designed to be all weather compatible and have life expectancies of over 5 years. Two schools of thought. Routine preventative maintenance with a full check of operations, mountings, connections and fittings, clarity of recording, etc., or operate until failure and replace as necessary. Weather is tough in the tropics, I have my cameras and a/c systems checked every spring.
Recording, playback, remote access. Whether wired or wireless, your system can be tailored to your preference. A recorder that receives hard wired video usually records two weeks of video before it records over old video. If you need to send video to the police or insurance or some other third party, emailing a segment of video is easier with cloud based recordings. Most hardwired recorders utilize thumb drives to transfer such video.
Barnes uses two video recording systems: an 8 Channel HD Digital Video Recorder (DVR) and a 32 Channel Network Video Surveillance Recorder (NVR). The DVR system processes data at the recorder, whereas the NVR system encrypts and processes data at the camera before sending it to the recorder for storage and remote viewing. Since DVR and NVR systems handle data differently, they use different types of cameras. Most DVRs use analog cameras, while NVRs use IP cameras. Most importantly, a DVR based surveillance system is a hard-wired security system while an NVR system can be either hard-wired or wireless.
I have used Barnes Alarms services exclusively since 1999. My cameras and recording system have not failed me once. Crime is virtually non-existent in Key West and not once in 20+ years of residence have I ever feared or experienced any intruder or hostility at any place or at any time of day or night. But let's face it, alcohol and bicycles and alcohol and mopeds (especially drunk tourists on mopeds) can quickly cause a couple thousand dollars in damage. The police and bike/moped rental agencies love it when they can ID "who done it". Your checking account will love it too.

My contact at Barnes Alarms is Christopher Globe. Chris is the Vice President and can be reached at chrisg@barnesalarmsystems.com.

If you have any comments or questions, please call me here.

Good luck.