From the Blog
Sep 20, 2023
Sep 11, 2023
Sep 05, 2023
Aug 15, 2023
Aug 03, 2023
Posted: Jun 27, 2020
Key West Airport Brings the Best to Key West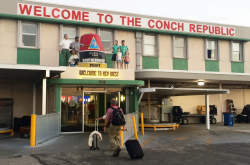 Key West International Airport (EYW) flies non-stop to New York - LaGuardia, Newark, Philadelphia, Washington, DC, Charlotte, Atlanta, Chicago, Dallas-Ft. Worth, Tampa, Orlando, Fort Lauderdale and Miami. From these airports, access to the world is unlimited. Leave your Key West safe haven in the morning and be almost anywhere on the planet in 24 hours. Return from the planet and your remote workplace and safe haven is patiently waiting. Work remote, pedal to lunch, dinner water/pool side and if you need to get anywhere in a hurry, you can be there the next day. Perfect.
______________________________________________________________________________________
The airline industry is an intensely data driven industry. Every possible cost factor for fuel, labor, new aircraft, maintenance, inflight meals, fare increases or discounts is scrupulously evaluated towards an end result of revenue per passenger mile (RPM). The airline industry does not make a move without the expectation of a long-term profit.
The continued growth of tourism into Key West has caused US airlines to increase significantly service into Key West. The six largest US markets for passengers flying to/from Key West are:
New York/Newark
Miami/Ft. Lauderdale/Palm Beach
Charlotte
Washington, DC/Baltimore
Chicago
Atlanta
The five largest international markets (No non-stop flights - yet) are:
Toronto
London
Nassau
Montreal
Cancun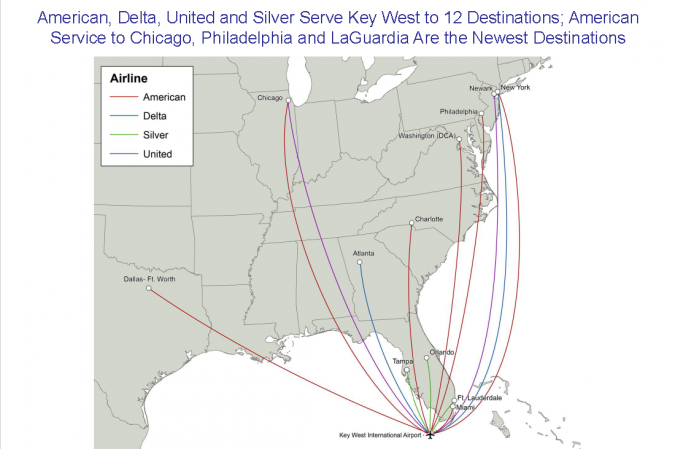 American Airlines
American Airlines has 39% of the passenger traffic into Key West. 2019 traffic increased to 381,000 passengers, up 22% over 2018.
Twice daily service to/from Charlotte and Miami and daily service to/from Washington, DC, Dallas/Ft. Worth, Chicago, Philadelphia and NY/La Guardia
American dominates service to Charlotte, Dallas/Ft. Worth and Philaelphia
Delta Airlines
Delta Airlines has 37% of the passenger traffic into Key West. 2019 traffic increased to 361,000 passengers, up 14% over 2018.
Twice daily service to/from Atlanta and daily service to/from NY/La Guardia.
Delta dominates service to Altanta.
Silver Airlines
Silver Airlines has 14% of the passenger traffic into Key West. 2019 traffic decreased to 132,000 passengers, down 23% from 2018.
Twice daily to/from service to Tampa and Ft. Lauderdale and daily service to/from Orlando
Silver dominates service to Tampa/St. Pete and Orlando.
United Airlines
United Airlines has 9% of the passenger traffic into Key West. 2019 traffic increased to 95,000 passengers, up 38% over 2018.
Daily service to/from Chicago and Newark.
United dominates traffic to Newark.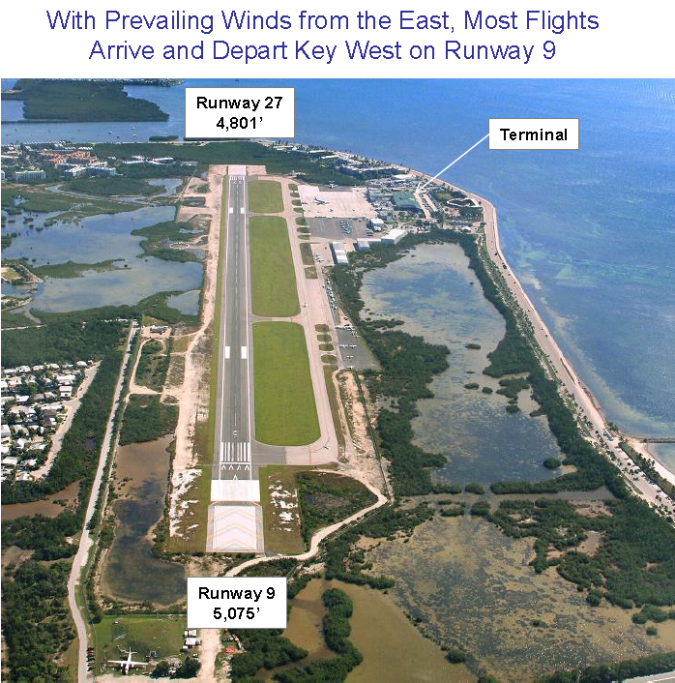 In 2017, Key West International Airport processed 733,126 passengers (Arriving and Departing). In 2018, there were 870,237 passengers. In 2019, there were 969,069 passengers, an increase in passenger handling by 32% over 2017 and 11% over 2018. (A passenger is counted both when they arrive and then again when they depart; as in, 969,069 passengers would be 484,534 individuals).
We all know fares have gone up. As an Origination/Destination airport, Key West Airport does not accrue the revenue benefits associated with ticket fees or food/drink/retail spending by passengers that an airport receives where passengers transfer or change planes. As such, and despite increased airline efficiencies and consolidation, fares to/from Key West are the highest in the state of Florida and are roughly 78% higher than the average for all airports and airlines in Florida.
The Future - Safety and Efficiency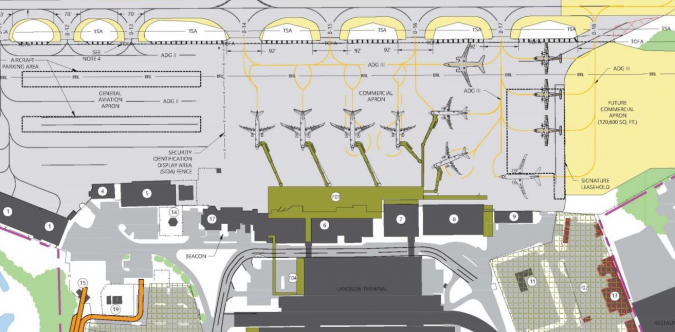 Key West Airport (EYW) is owned and operated by Monroe County under the regulatory guidance of the Federal Aviation Administration (FAA). As such, EYW must have a Master Plan in place to guide its development and to secure financing. The current Master Plan was approved by the Monroe County Board of County Commissioners (BOCC) in August 2018. This 15-year, 3-phase strategy for development includes one of the best enhancements possible – jetways. Sure, it's fun to walk across the 120 degree tarmac from the airplane you just came in on to the air terminal. Or to get soaked from a micro-downpour while headed from the terminal to the airplane. But for the safety, comfort and efficiency of aircraft, passengers and ground crew, a climate controlled jetway is the best.

Up to five jetways, designed to handle six regional and small single-aisle aircraft are proposed in the intermediate-term (2024 – 2028) second phase of enhancements. Excellent.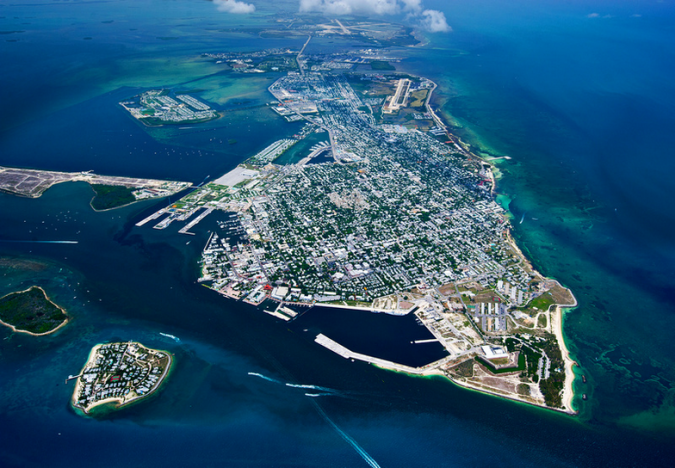 According to available tourist and travel tracking information, Key West had 2 million+ tourist visitors in 2019, nearly 25% passing through Key West Airport. The airport has an estimated 2.6% average annual growth rate for the next 15 years. The 15-year Airport Master Plan is built around this growth projection and will provide safe and comfortable services to the steady and measured increase of aircraft and passengers.
There is no plan to manage land tourists. There is no plan to manage sea tourists, though cruise ships arrivals to Key West are presently under specious attack. Land tourists use Key West as a two-night getaway from their urban confinement. Generally they bring traffic and noise. Sea tourists enjoy Key West as a polite day tripper and mostly limit themselves and their spending to about 20% of the western tip of the island (where they have an outsized positive impact on business revenue).
Air tourists generally stay longer, spend more, bike don't drive and often have a specific purpose for visiting, interest and respect for Key West; its arcitecture, arts, entertainment and ecology. Aviation serves these travelers and simultaneously allows Keys residents to live and work away from urbanization while still being able to easily go anywhere as the need arises.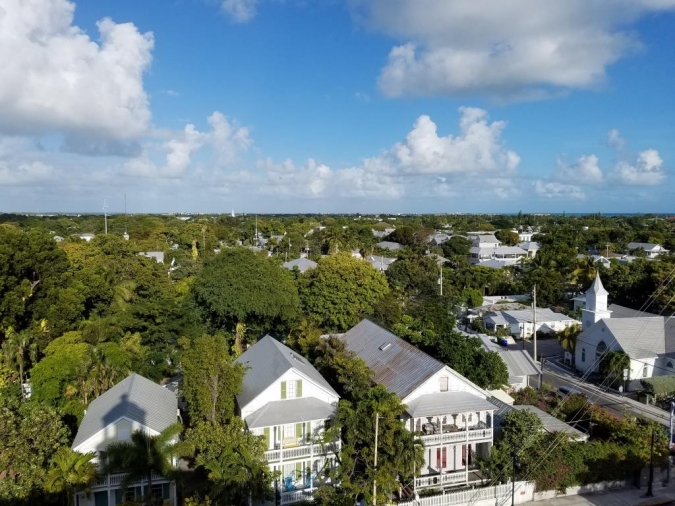 When I lived in Key West in the mid-1980's, the Key West Airport looked like an open air concrete block strip mall. The afternoon sun cooked the reservationists and check-in staff of PBA and Air Sunshine airlines. Passengers sweated through the check-in process, sweated walking to the Cessna 402's and DC-3's on the tarmac and sweated from the time you crawled inside these un-air-conditioned airplanes until the airplane passed 10,000 feet and some cool air could be directed inside. Whew! No more.

EYW is a bright and airy airport with roomy drop-off and check-in areas. Turboprops, regional jets and single-aisle Boeings and Airbuses fly you throughout the US, throughout the day and in the best of comfort and safety. Your safe haven home and remote work site in Key West might be at the end of the road but your access to the world by air is unlimited.

If you have any comments or questions please contact me here.

Good luck!
(Since this article was written, Jet Blue has begun once a day, every day, round trip service between Boston, Logan Airport (BOS) and Key West (EYW)).

Additional sources: