From the Blog
May 27, 2022
May 13, 2022
May 04, 2022
Apr 06, 2022
Apr 03, 2022
Posted: Jun 25, 2013
How to restore a home in Old Town Key West.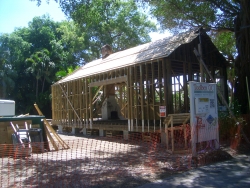 ​Old Town Key West is a treasure of wood homes from the 1880's to the 1930's. Some homes were built in the Bahama's, deconstructed, boated to Key West and reconstructed. Old Town homes were often built by sailor architects whose knowledge of building ships snug and trim without nails transferred into building homes of the same flexible strength. Grandiose or simple, Old Town homes are built to endure. Restorations and renovations enhance that durability. Monroe County has the strongest building code in Florida, driven to satisfy mitigation directed by windstorm insurance. But the home must still retain its historic chemistry.
How are historic preservation and building to code balanced?
Previously I wrote about the Historic Architecture Review Commission (HARC) and its goal of preserving the classic architecture of Old Town Key West. This effort, begun in the 1960's, guides restorations, renovations and new construction in the Old Town area of Key West.
HARC adopted 10 tenets to preservation as described by the Secretary of the Interiors Standards for Rehabilitation. These tenets provide a guideline for architects, builders and owners to maintain historic character, integrity and craftmanship.
I met with Kevin Melloncamp, GC, at his project at 625 Margaret St. (c. 1892)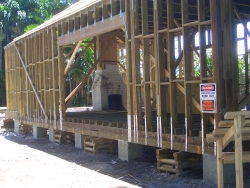 "Approval from HARC for the job is the first step in obtaining building permits. Without HARC approval for a job - there is no job." says Melloncamp, owner of Toolbox GC. Once HARC approval is obtained, formally called a Certificate of Appropriateness, everything refers back to that approval. "The Key West City Building Department has a very effective Planning Review system that ties all General Contractor (GC) and subcontractor permits to a single source - the HARC approval", says Melloncamp.
Once all the permits are in place, it is up to the GC to build to code, build to plan, coordinate job activities and inspections, preserve and strengthen, as needed, historic architectural elements and if a change order is needed to pass that to the architect.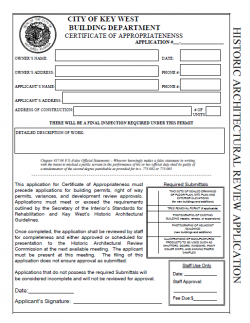 For many, the HARC and permit approval process is a Job's lesson in red tape and "it depends on who you talk to". For the unitiated, putting all the paperwork together to satisfy the objectives of HARC and the Building Department is like trying to get your arms around a cloud.
The Building Department receives modest marks in tech savvy and while some permitting forms are online, the entire and accurate story of what, when and how much, often depends on who you are talking to and how customer service oriented that city worker is.
The various City Planners are excellent at their job and can provide detailed information face-to-face and over the phone. Still, it is no surprise that many home owners opt for the small weekend project and avoid the Building Departments permitting process. Best solution - go with the pros who do this for a living.
Back to the project - restore original house, add two new wings, pool and pool house.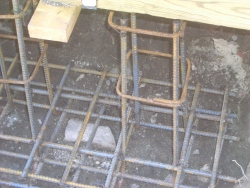 In Key West, a primary structural goal is "holding down" old homes says Melloncamp. Hence concrete spread footers to anchor old frames. Similarly constructed auger footers anchor new construction to our coral base.
Amazingly, 100 year old timber, usually Dade County Pine, remains incredibly sound and is strengthened with new pressure treated lumber nailed or screwed alongside. Another coded item are metal straps with padded moisture proof backings that keep vertical supports attached to their base.
After the base and the body comes the roof. Externally, the roof must be metal, usually interlocking galvinized aluminum metal shingles. Underneath, hurricane straps made of galvinized steel, impact resistent windows and hurricane shutters all provide wind uplift protection. (Some ventilation allows for the equalization of pressurized air.)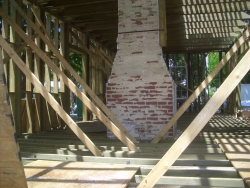 As stated previously, building code requirements in Monroe County can be traced to windstorm insurance and the desire of Monroe County officials and residents to avoid Hurricane Andrew - like destruction. By and large, hurricanes do not pose a significant wind threat to the Keys. Few hurricanes develop even CAT II winds for the County; however, windstorm models utilize worst case 1 in a 100 scenarios. 'Tis better to build for the worst then to not.
You have to admire the sailor architects. Many Old Town homes stand 80 - 100+ years after they were built. Today's architects, contractors and building code developers plan to keep it that way.
If you have any comments or questions please contact me here.
Good luck.