From the Blog
May 27, 2022
May 13, 2022
May 04, 2022
Apr 06, 2022
Apr 03, 2022
Posted: Aug 16, 2012
How much will it cost to redo this kitchen?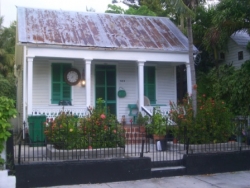 ​There is rarely a time when a potential Buyer doesn't ask me about redoing a kitchen. A little or a lot, we are more inclined to personalize our kitchens then any other room in the house. Kitchens and bathrooms (and outside the Keys - Garages) are the top home makeovers whether you're buying a new home or redoing your existing home. The options to redo are plenty - let a big box store do it, a General Contractor or a business that specializes in kitchens.
I spoke with Nancy Stock, Owner of Signature Spaces, about redesigning kitchens in Key West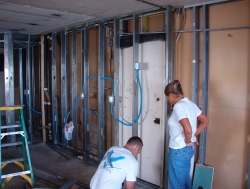 There are four elements to building a kitchen; Design, Materials, Labor and Budget. Each element impacts the other and striking a balance requires the orchestration by someone who can coordinate all the elements and their many options.
Stock begins "Unless you're doing a complete gut job, don't do anything until after you've lived in the house for awhile". "It takes awhile for people to get the feel of their house and what they want from their kitchen". Good advice. The added time also allows owners to see other properties; Open Houses, House and Garden tours and their friends and neighbors. Once a vision begins to take place, it's time for the first step -
Design
For specific kitchen and bath remodels, your best bet is a specialist. Stock first visits your kitchen. She takes pictures of rooms adjacent and leading to the kitchen, outside areas you can see from the kitchen and listens to your vision. She uses Computer Assisted Design (CAD) software to design multiple layout options. These 3D, movable designs allow you to virtually be in your kitchen. She inserts background photos into windows and French door glass panels so you can see how the space will fit into its surroundings.
For many Key West homes, the kitchen is a part of the living space, not a separate entity unto itself. The functional design must contribute to the feel of the house. This may include contrasting cabinet tones or colors, "covert" appliances and ease of movement as the kitchen blends into the rest of home interior.
Material
CAD provides a huge data base of materials; natural, synthetics, colors, glass doors, paneling for appliances, etc. Just like carpenter/sailors who built many of our Key West homes, so too will Stock ensure that your kitchen is fit and trim and makes best use of tight spaces. This includes half sized appliances (under counter refrigerators and separate freezer), hidden dishwashers and appliance exteriors and hardware that share and complement the space in the kitchen, not compete against it.
Lighting too is critical. Direct and indirect lighting, LED strips and recessed lights not only enliven work areas and corners but save energy and add style on a budget. Lighting creates depth, optimizes and makes small spaces easier to work in and adds safety.
Signature Spaces uses experienced craftsman for your installation and will maintain your kitchen's perfect fit.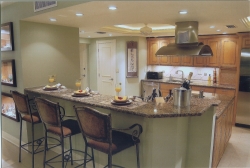 Labor
Signature Spaces takes care of all labor; demolition and removal of material, installation of all electrical, plumbing, and appliances and cabinetry. All permits and inspections and on-site supervision of the work are performed by Signature Spaces. Code compliance is scrupulously maintained and all inspections are performed in a timely and coordinated manner.
If you live out of town, Stock will email you weekly photos of progress so you will not have to worry about being out of area - out of mind.
Signature Spaces is dedicated to keeping you fully apprised of the schedule. "Communications create a comfort level of confidence and trust" says Stock. "Service after the fact shows the customer we are dedicated to your goodwill, not just done and gone after getting paid".
Budget
When people ask me "How much to redo the kitchen?" my answer is "It depends". Stock explains how the three main re-dos are cabinets, countertops and appliances.
Cabinets run from traditional maple and hickory to exotics like "zebra wood".
"Countertops are seeing a trend away from fancy marbles and granites to engineered stone" Stock says. Also, traditional, solid colored corian is making a comeback. She has also installed stainless steel countertops with color coming from cabinets and lighting.
It used to be that only the high end appliances had all the special tech features (flat screen TV, radios and touch screen devices). Consumer demand has made these features available at every price point. "Most important", Stock says, "Is to make sure your power box can handle the amps and has some power surge protection".
How much does it cost? "It depends" But Stock handles your kitchen needs from $2000 to tens of thousands.
Signature Spaces. 1118 White St., Key West. 305 294-4420.
Nancy has been in the biz for 20 years. Presently she is redoing the kitchen at Truman's Little White House in Key West. That's a pretty good reference!
If you have any comments please contact me here.